the countdown is on
---
It's been a busy 3 weeks since we closed for initial renovations in preparation for our upcoming expansion. We participated in the James Beard Taste America event with Chef Marc Murphy, organized Sonoma Strong to provide relief for those impacted by California wildfires, took part in local events with Philly Bloke and Revivalist Gin, and traveled to Nantucket with our team. Check out our Instagram to see our adventures and follow us for more! We can't wait to open our doors again this Friday, October 27th for dinner service and back to regular hours after that.
Then let the countdown begin to mid-January of 2018… when we unveil a luxurious new dining area featuring a full bar offering a craft cocktail and wine program focused on genuine hospitality with a classic take on cocktails and wines that are designed to complement the menus. Also, don't miss Wayne's Christmas tree lighting ceremony on Friday, Decmeber 1st at 7:30pm – we've got the best seats in the house!

It's that time of year again – time to pull out the baking pan, put your apron on, and… call Cornerstone! We've got you covered on spreads of all sizes with seasonal creations for your family functions. Take a look at our new Autumnal catering menu as well as our 2017 Holiday Feasts Menu. Make sure to place your orders soon!
——–
Thanksgiving | order by 11/18
Chanukah | order by 12/12
Christmas | order by 12/16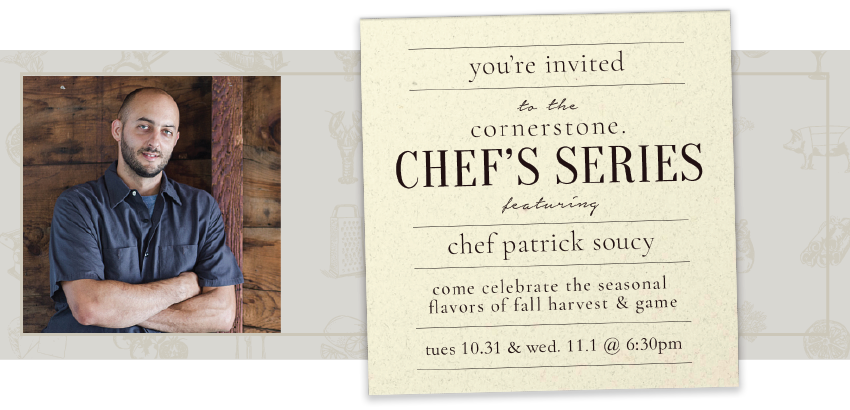 Only a few seats are left for the Tuesday evening of our upcoming Chef's Series featuring our friend Chef Patrick Soucy. With a deep appreciation for highlighting the flavors of New England's seacoast, his focus is on the re-introduction of heirloom seed saving, slow food, fermentation, growing, hunting, and harvesting directly from the field to the plate. His thirst for culture recently led him to Spain and France to explore wine regions, seafood & the art of charcuterie. He is the recipient of a 2014 Star Chefs Rising Star Chef Award, and has cooked at the James Beard House. Patrick will be bringing his unique approach to the Cornerstone Chef's Counter – highlighting the flavors of New England and the Mid-Atlantic through beautiful seasonal vegetables, fresh pastas and game meats.

———-
Fall Harvest and Game dinner
presented by Chef Patrick Soucy in collaboration with Nick & Christine Kondra
$125 per person
includes 4 courses + wine tastings
(we encourage bringing wine as well)
Tuesday, October 31st at 6:30pm
Wednesday, November 1st is sold out!