come see the new space!
---

Be among the first to experience the new restaurant!
Join us as we christen the new dining area with the first installment of our 2018 Winemaker Dinner Series featuring Ryme Cellars. This husband and wife team are traveling from their grape stomping grounds in Sonoma to grace us with their presence. Seats are filling fast, so be sure to get your ticket today!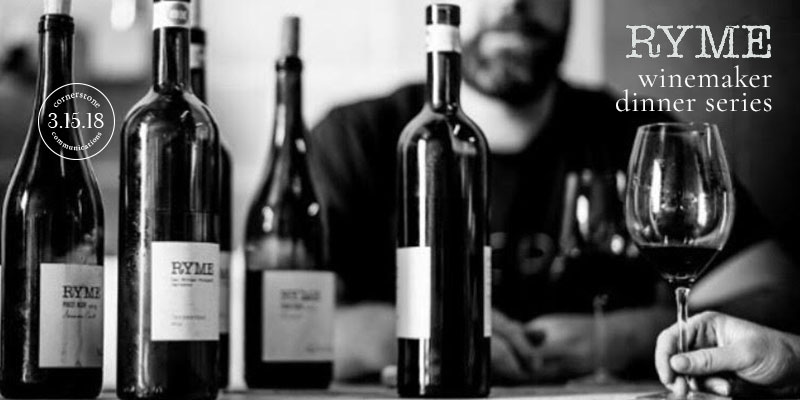 When
Thursday, March 15th @6:30pm
What
Winemaker Dinner Series:
Ryme Cellars
5 courses + Wine Tastings
(includes tax and gratuity)
Price
$150 per

What better day to celebrate the fruits of our labor and luck than St. Patty's Day? We're pulling out the stops and raising glasses to our Irish roots and the reopening of Cornerstone! Come and enjoy an open house from  10am–7pm on March 17th where we'll be providing a complimentary menu, featuring our new housemade Bacon & Egg Souffle breakfast sandwiches along with Corned Beef and Braised Savoy Cabbage, Pommes Puree and Cornerstone French Salad. Plus, cash bar serving up Guiness, Jameson, Irish whiskies, wine and beer, etc.. We'll be playing The Pogues, Clancy Brothers and Dropkick Murphys all day… and of course, we encourage singing along.
This family-friendly event will our first day opening back up to the public – come see the newly expanded space and meet our newly expanded team. We want to make sure we have enough food for all in attendance, so make sure to RSVP to this email or reply to info@cornerstonewayne.com by Wednesday, March 14th.
Happy Birthday Christine!
If you can't make it sooner, be sure to come out for our first dinner service in the new dining area – plus, as if there weren't enough milestones being marked already, we'll be celebrating Christine's 40th Birthday the weekend of March 24th and restarting our normal brunch service the next day, come join us!