accolades & appetizers
---
We are super excited to announce that we've been chosen to participate among friends at the James Beard Taste America Philadelphia Weekend, October 13th & 14th. On Saturday, we will be joining celebrity chef Marc Murphy of New York's Landmarc & Ditch Plains restaurants at Sur-la-Table in King of Prussia. Our tasting menu will include Cranberry Braised Beef Cheeks and Castle Valley Grits.
RSVP for Marc Murphys's demo while space is still available!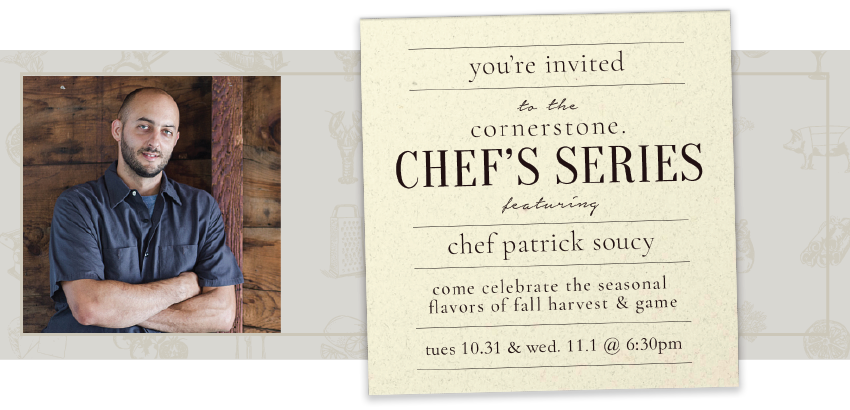 Our friend Chef Patrick Soucy has a deep appreciation for highlighting the flavors of New England's seacoast. His focus is on the re-introduction of heirloom seed saving, slow food, fermentation, growing, hunting, and harvesting directly from the field to the plate. His thirst for culture recently led him to Spain and France to explore wine regions, seafood & the art of charcuterie. He is the recipient of a 2014 StarChefs.com Rising Star Chef Award, and has cooked at the James Beard House. Patrick will be bringing his unique approach to the Cornerstone Chef's Counter – highlighting the flavors of New England and the Mid-Atlantic through beautiful seasonal vegetables, fresh pastas and game meats.

———-
Fall Harvest and Game dinner
presented by Chef Patrick Soucy in collaboration with Nick & Christine Kondra
$125 per person
includes 4 courses + wine tastings
(we encourage bringing wine as well)
Tuesday, October 31st and Wednesday, November 1st at 6:30pm.