tableside tastings with vokel and enriquez
---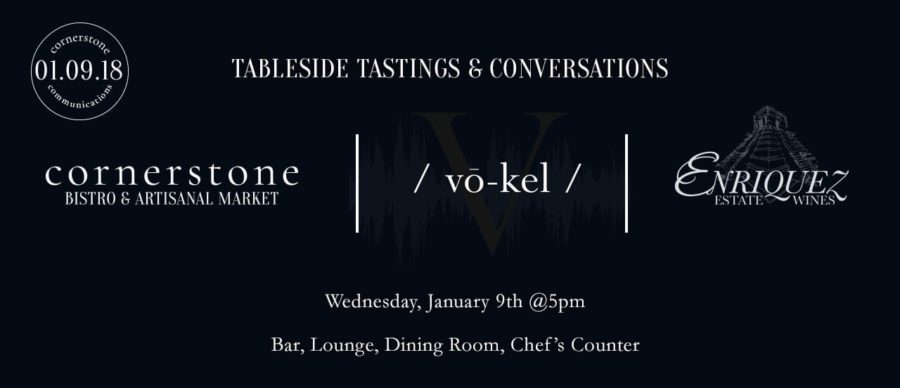 Cornerstone + Vokel + Enriquez
It would seem all roads lead to Nantucket, the place where the roots of Cornerstone first started to sprout… and the place where VE Cellars also found its beginnings. We're so excited to welcome them to our on-going Tableside Tastings Series on Wednesday, January 9th. Cecilia Enriquez (of Enriquez Wines) and Dana von Sternberg (of Vokel Cellars) will be bringing special selections from their respective wine collections to provide complimentary tastings designed to be paired with Cornerstone's seasonal menu during dinner service, from 5pm to 10pm (or until the bottles run dry). Guests can enjoy seating in any of Cornerstone's four intimate areas – the 14-seat Chef's Counter, 10-seat bar, as well as the Dining Room and Lounge. Seating selections can be made at the time of reservation and will be accommodated on a first-come, first-serve basis.
—

Wednesday, January 9th at 6:30pm

Tableside Tastings during Dinner Service featuring VE Cellars owners, Cecilia Enriquez and Dana von Sternberg

A limited number of Vokel and Enriquez wines will be available for retail purchase at a 10% discount during this event.
—
About VE Cellars
Cecilia Enriquez and Dana von Sternberg each entered the wine industry in 2008/2009 with no knowledge of the wine business and no formal wine education. Cecilia had just graduated from Boston University with a degree in Business Management and Dana was managing his family's wholesale diamond cutting company in Sonoma County. A random series of events caused them to meet each other and embark on an incredible journey through wine and food together. Through the years they each took over the winemaking for their respective brands and expanded the reach of their marketing to include areas of the East Coast which had special meaning to Cecilia. In May of 2015 during the Nantucket Wine Festival, where Cecilia and Dana first connected, they were engaged at their "Happy Place". Since then they've spent much of their time expanding their reach to New England and into NJ/PA where Cecilia grew up. After being married in 2017, the couple moved all their wine production under one roof and have launched the start of their own collaboration VE Cellars.