tableside tastings with ceretto
---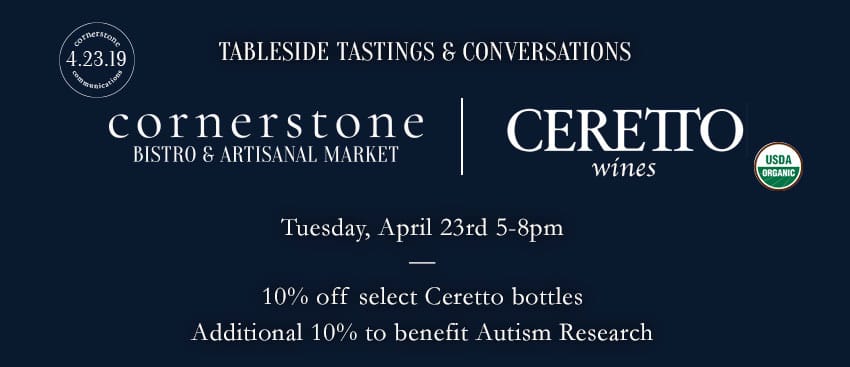 Cornerstone + Ceretto
Join our on-going Tableside Tastings Series on Tuesday, April 23rd as we welcome Ceretto Wines for complimentary tastings during dinner service, from 5 to 8pm (or until the bottles run dry). Additionally, 10% of all dinner proceeds from this event will bolster our donations to the Eagles Autism Challenge!
Guests can enjoy seating in any of Cornerstone's four intimate areas: the 14-seat Chef's Counter, 10-seat bar, as well as the Dining Room and Lounge. Seating selections can be made at the time of reservation and will be accommodated on a first-come, first-serve basis.
—

Tuesday, April 23rd | 5-8pm

Tableside Tastings featuring Ceretto Wines

A limited number of Ceretto wines will be available for retail purchase at a 10% discount during this event.

LUNCHING FOR A CAUSE
10% of all weekday lunch proceeds in April benefit Autism awareness
This April, in honor of National Autism Awareness Month, Cornerstone is looking to help bolster a great local cause by donating to the Eagles Autism Challenge. Dine at Cornerstone for lunch Tuesdays through Fridays in April and 10% of your check will help support innovative research and programs to help unlock the mystery of autism.
learn more about the challenge
—