pop up shop with KG Collective
---

YAY FOR ROSÉ POP UP SHOP
featuring limited edition KG Collective Wine Tassels
Pick up the perfect hostess gift for the Fourth of July at this exclusive pop up-portunity! Cornerstone is partnering with KG Collective to host a one-time event offering a coveted selection of KG's unique wine tassels paired with bottles from our Yay for Rosé seasonal wine menu. We expect this high-demand inventory to sell out quickly, so we've set aside some of the more popular selections, perfectly paired with bottles of Rosé, in the form of cohesive and complimentary gift sets for pre-order.
Saturday, June 29th
from 10am to 2pm

—
• Pre-orders can be picked up at Cornerstone or delivered locally as early as Thursday, June 27th
• Mix and match tassels with any available styles on the day of the event
• We will be serving Cheese, Charcuterie, Oysters
• Escudo Real Vinho Verde poured by David Nowacki of Vintage Imports + sampling other wines
• Snap a pic outside in front of our "Yay for Rosé" Step & Repeat
• RSVP strongly encouraged, we're excited to see you there!
ABOUT KG COLLECTIVE
Started by Kristen and Gina, Mom friends turned business partners, KG Collective is transforming the wine gifting experience with their signature KG wine tassels. Hand made with meticulously sourced, high quality materials – such as porcelain and glass beads, druzy quartz, silk and raffia, etc. – these originally designed textile tassels now hang from wine bottles and stemware from Palm Beach to Montauk.

GIFT SETS*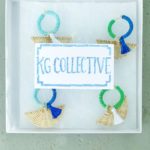 THE NANTUCKET
$95
–
view now
• Bottle of
Escudo Real Vinho Verde
• Set of 4 "Nantucket" stem tassels
• Rosé bottle tassel

THE ST. MICHAEL'S $110 view now
• Bottle of Lucas Lewellan Pinot Noir Rosé
• Set of 4 "St. Michael's" stem tassels
• Rosé bottle tassel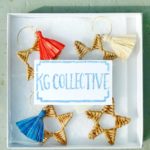 THE AMERICANA $130 – view now
• Bottle of Long Meadow Ranch Rosé
• Set of 4 "Americana" stem tassels
• "Americana" Rosé bottle tassel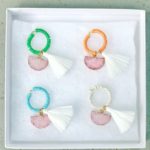 LA MER $185 – view now
• Half bottle of Billecart Salmon Brut Rosé Champagne
• Set of 4 "La Mer Pale Pink" stem tassels
• Rosé bottle tassel


*All items subject to availability.

Don't forget to add:
• Gift Cards
• Wine Club Memberships
• Fine Cookware + Utensils
• Assorted Beer, Wine, Cider
• Bottles from our Specialty Wine Shop
• Lawless Craft Jerky
• Oysters – whole baskets available
• Olive Oils & Vinegars
• Mast Chocolates
• Fresh-made Pastas
• Cheese & Charcuterie
• Breads, Crackers, & Crostini
• Culinary Books
• Ratpack Martini Set
• Cocktail Salts
+ So much more!