I'm so hungry I could eat a… Horse Show Bento Box
---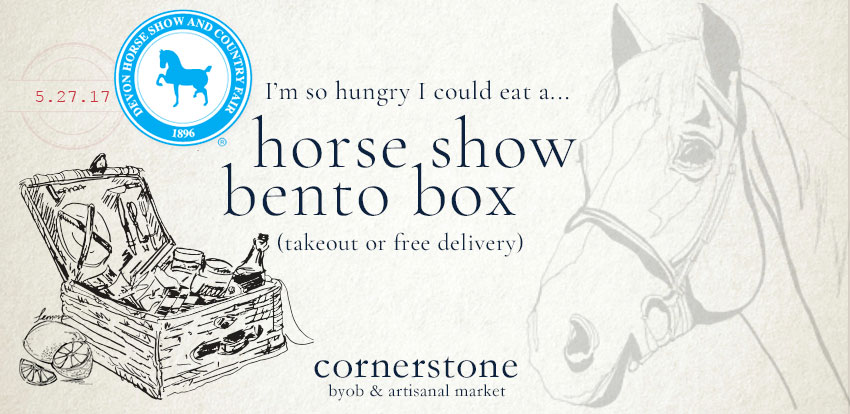 devon horse show bento boxes
Starting now through June 4 we'll be carefully crafting custom-made Bento Boxes featuring our delicious takes on classic English Tea Sandwiches, plus our classic Cornerstone Maine lobster salad and more. Orders can be picked up or delivered directly to the event grounds. Please note, we'll be closed Sunday and Monday but back in action on Tuesday!
Pickup available, delivery to Devon event grounds at no extra charge. gratuity not included. 24 hour notice appreciated. Our full selection of catering items is also available with two day notice.
bento boxes

choose a sandwich (or a salad), a side, and a sweet

tea sandwiches
the old devon
Russ & Daughters smoked western nova salmon, lemon caper dill cream cheese, english cucumbers
$20.00
the gold ring
cucumber mint ricotta, roasted red pepper and eggplant
$20.00
the grand prix
smoked duck, caramelized onion jam, St. Nectaire cheese
$20.00
sandwiches or salads
the loumange
proscuitto di parma, Hummingbird triple créme, tomato confit
$25.00
the 1896
Maine lobster salad*
$30.00
the carriage
Organic Waldorf chicken salad*
$25.00
*choice of sandwich on Bien Cuit baguette or as a salad
choose a side
French Spinach Salad
Watermelon Gazpacho
Finca Chips
choose a sweet
homemade scones
with tri-berry jam
limoncello lemon bar
made with own in-house meyer lemon curd
mini bourbon balls
honey whipped cream
the pony box (for the kids)
$15.00
PB & tri-berry jam
choice of chips or veggies
choice of limoncello lemon bar or strawberry shortcake
grilled organic chicken
choice of chips or veggies
choice of limoncello lemon bar or strawberry shortcake
each bento box is considered a single serving
"ladies who lunch" specials
In additon to our Bento Boxes and other menu items, we'll be offering these exclusive specials only on Wednesday, May 31st in honor of all the ladies who will be lunching that day!
for the ladies
fancy hat frittata
spring asparagus, Benton's bacon, aged cheddar, green salad
$25.00
ladies choice board
1 artisanal cheese, 1 charcuterie, seasonal accoutrement, crostini, green salad
$25.00