coming soon 2018: bistro. cocktails. oysters.
---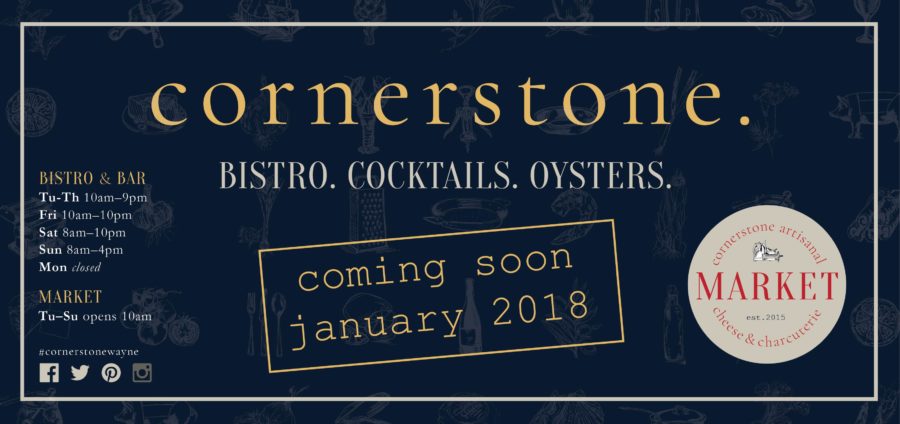 growth is good
(Drumroll, please…) It's with the utmost excitement that we announce a breakthrough expansion (literally) into the space next door, to offer a luxurious new dining area with a full bar! While the Cornerstone chef's counter you all know and love will remain the same, we're humbled to be joining the lineup of excellent bars in Wayne with this new addition. We've been working hard behind the scenes on building a craft cocktail and wine program that is focused on genuine hospitality, with a classic take on cocktails and wines that complement our menus. Don't worry, we're still maintaining our original BYOB status – so, you'll still be able to bring your own as well as indulging in what we have to offer.* Rest assured, we'll be applying the same thoughtful attention to each and every glass that's poured as we do to the plates and boards we're known for. As they say, all good things come to those who wait… While we will re-open after initial construction on October 27th, the new space will still be a work in progress and (hopefully) open in January 2018. In true Cornerstone spirit, we'll be making the most of the time that our doors are closed: Follow us over the next three weeks, as we travel to Nantucket to treat our team to the island which inspired and shaped us, showing them where our roots lie.
#cornerstonetravels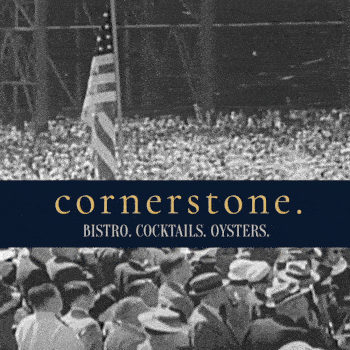 *Corkage fees will be applied, but waived with additional bottle purchases.
from humble beginnings to huge honors
We are also super excited that we've been chosen to participate among friends at the James Beard Taste America Philadelphia Weekend, October 13th & 14th. On Saturday, we will be joining celebrity chef Marc Murphy of New York's Landmarc & Ditch Plains restaurants at Sur-la-Table in King of Prussia. Our tasting menu will include Cranberry Braised Beef Cheeks and Castle Valley Grits. RSVP for Marc Murphys's demo while space is still available!
one meal. one night. one nation.
On Saturday, September 30th, in partnership with Reserve, Cornerstone participated in an evening of dining out to support the Hurricane Harvey and Irma Hospitality Relief Fund. A portion of all bills from dinner service was donated to help raise funds for restaurant and hospitality workers affected by Hurricanes Harvey and Irma.
#cornerstonecares